Notice
15 August 〜 19 August 2021 Closed

COVID-19 vaccines are NOT available at our clinic.
Welcome to the website of Umeda Travel Clinic.
Since 2011 we have offered comprehensive pre-travel consultations and travel-related immunisations.
Vast majority of WHO approved vaccines
International certificate of vaccination
English-speaking physician/ receptionist
are available at our clinic.
Physician
Qualification

Certificate in Travel Health: International Society of Travel Medicine
Diploma in Tropical Medicine & Hygiene: Royal College of Physicians of London
Fellow of the Royal Society of Tropical Medicine and Hygiene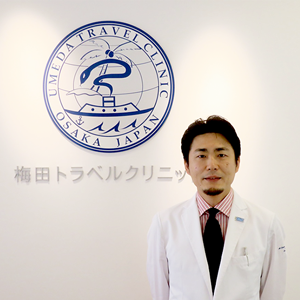 Masanobu Tsuzuku, MD
Vaccines and Antimalarials
Hepatitis A
Brand name
Manufacturer
Price per dose
Doses
Remarks
Stock
Havrix 1440
GSK
14,300 JPY
1+1
over 19 years old
○
Havrix 720
GSK
14,300 JPY
1+1
1〜18 years old
○
Avaxim
Sanofi-Pasteur
14,300 JPY
1+1
over 16 years old
×
Hepatitis B
Brand name
Manufacturer
Price per dose
Doses
Remarks
Stock
Engerix-B 20
GSK
8,800 JPY
3
over 20 years old
○
Engerix-B 10
GSK
8,800 JPY
3
under 20years old
○
Hepatitis A+B
Brand name
Manufacturer
Price per dose
Doses
Remarks
Stock
Twinrix
GSK
15,400 JPY
3
over 16 years old
○
Twinrix Junior
GSK
15,400 JPY
3
1〜15 years old
×
Typhoid
Brand name
Manufacturer
Price per dose
Doses
Remarks
Stock
Typhim Vi
Sanofi-Pasteur
9,900 JPY
1
over 2 years old
○
Typbar TCV
Bharat Biotech
9,900 JPY
1
over 6 months old
○
Hepatitis A + Typhoid
Brand name
Manufacturer
Price per dose
Doses
Remarks
Stock
Vivaxim
Sanofi-Pasteur
20,900 JPY
1+1
over 16 years old
×
Cholera
Brand name
Manufacturer
Price per dose
Doses
Remarks
Stock
Dukoral
Valneva
8,800 JPY
2〜3
over 2 years old
○
Tetanus
Brand name
Manufacturer
Price per dose
Doses
Remarks
Stock
Tetanus toxoid
Takeda
3,300 JPY
1〜3
 
○
Tetanus + Diphtheria (Td)
Brand name
Manufacturer
Price per dose
Doses
Remarks
Stock
Td-pur
Eberth
5,500 JPY
1〜3
 
○
Tetanus + Diphtheria + Pertussis (Tdap)
Brand name
Manufacturer
Price per dose
Doses
Remarks
Stock
Boostrix
GSK
9,900 JPY
1〜3
 
○
Polio (IPV)
Brand name
Manufacturer
Price per dose
Doses
Remarks
Stock
Imovax Polio
Sanofi-Pasteur
9,900 JPY
1〜3
 
○
Rabies
Brand name
Manufacturer
Price per dose
Doses
Remarks
Stock
Rabipur
GSK
17,600 JPY
3
 
○
Verorab
Sanofi-Pasteur
13,200 JPY
3
 
○
Japanese encephalitis
Brand name
Manufacturer
Price per dose
Doses
Remarks
Stock
Jebik V
Biken
7,700 JPY
2+1
over 6 months old
△
Ixiaro
Valneva
19,800 JPY
2~3
over 2 months old
×
Meningococcal A,C,Y,W-135 (MCV4)
Brand name
Manufacturer
Price per dose
Doses
Remarks
Stock
Menactra
Sanofi-Pasteur
25,300 JPY
1〜2
 
○
Menveo
GSK 
17,600 JPY
1〜2
 
△
Meningococcal B (MenB)
Brand name
Manufacturer
Price per dose
Doses
Remarks
Stock
Bexsero
GSK
25,300 JPY
2
 
○
Tick-borne encephalitis
Brand name
Manufacturer
Price per dose
Doses
Remarks
Stock
FSME-Immun
Pfizer
11,000 JPY
2+1
 
○
Measles + Mumps +Rubella (MMR)
Brand name
Manufacturer
Price per dose
Doses
Remarks
Stock
Priorix
GSK
11,000 JPY
1〜2
Live vaccine
○
Herpes Zoster (Shingles)
Brand name
Manufacturer
Price per dose
Doses
Remarks
Stock
Shingrix
GSK
25,300 JPY
2
over 50 years old
○
Human Papillomavirus (HPV)
Brand name
Manufacturer
Price per dose
Doses
Remarks
Stock
Gardasil 9
MSD
35,200 JPY
2〜3
9〜45 years old
○
Malaria prevention tablets
Brand name
Manufacturer
Price per dose
Doses
Remarks
Stock
Malarone
GSK
770 JPY / tablet
NA
 
○
Mephaquin (Mefloquine)
Hisamitsu
1,100 JPY / tablet
NA
 
○
Vibramycin (Doxycycline)
Pfizer
550 JPY / 10 tablets
NA
 
○
※ The prices include tax.
※ Japanese local vaccines are also available.
※ Consultation fee will be charged for every visit: (1) 3,300 JPY (2)~ 1,100 JPY
Access
2-7 minutes walk from each station

JR

Osaka
Kita-shinchi(Tozai-line)

Osaka Municipal Subway

Midosuji-line Umeda
Tanimachi-line Higashi-Umeda
Yotsubashi-line Nishi-Umeda

Other

Hanshin-Railway Umeda
Hankyu-Railway Umeda

OSAKA UMEDA MAP